<![if !IE]> <![endif]>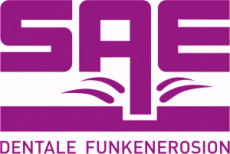 SAE Dental Vertriebs GmbH -International-
Langener Landstr. 173
27580 Bremerhaven
Germany
+49 471 9848745

+49 471 9848744

List of product entries
This exhibitor shows the following products and commodity groups:

Company & products
Company
Company profile
Company portrait
SAE Dental Vertriebs GmbH, founded on 01/01/1982 by Master Dental Technician (MDT) Günter Rübeling, develops and systemises dental production processes for precision combined dental prostheses and implant-based prostheses, and develops these for market entry. Based on the patented SAE spark erosion procedure, SAE also develops dental production processes for the dental laboratory. With the spark erosion machines and auxiliary materials developed by SAE, high quality dentures with precision fit can be manufactured today throughout the world in the field of combined and implant dental prostheses. The innovative SAE technology makes it possible to produce telescopic, implant and attachment dental prostheses made of the non-precious metal alloys CoCrMo.

Specifically for this procedure, SAE Dental developed and introduced onto the market the SAE Secotec product programme. Together with renowned scientists from the field of dentistry and dental technology, MDT Günter Rübeling and his staff developed the scientific basis for the procedure that was originally a purely industrial machining process. Dental faculties of well-known universities in Germany and also abroad supported the clinical tests and the implementation of the SAE spark erosion procedure in dental practices. The far-reaching cooperation forms the basis for ongoing further development of its products in order to guarantee a continuously high quality of products and services. After the founding of Rübeling Dental-Labor Bremerhaven and the formation of the Rübeling+Klar Dental-Labor Berlin group, and the resulting networking with the companies of MDT Andreas Klar, SAE Dental Vertriebs GmbH has the necessary know-how and many years' experience in the manufacture of products for the dental technology.
Products
SAE RetroFit EDM Spark Erosion Machine