<![if !IE]> <![endif]>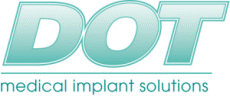 DOT GmbH
Charles-Darwin-Ring 1 a
18059 Rostock
Germany
+49 381 403350

+49 381 4033599

List of product entries
This exhibitor shows the following products and commodity groups:

Company & products
Company
Company profile
Company portrait
When implanting endossal implants, the aim is to achieve good primary stability and a sustained, friction-locked connection to the surrounding bone tissue.The healing behaviour and osseointegration of endossal implants essentially depend on both the design and the choice of material, as well as on the properties of the implant surface. Especially the roughness plays an essential role for osseointegration of dental implants.
DOT offers subtractive als well as additive technologies for surface modifications of dental implants. Made by DOT is synonymous with innovative surfaces and excellence in medical technology from Rostock in Germany - for the benefit of patients worldwide. We are one of the world's leading suppliers of medical coating technologies for dental implants and instruments. Color anodizing, laser engraving for product identification and cleanroom packaging are also a part of our product portfolio.
Products
PVD (Physical Vapor Deposition) coatings
BONIT®
Anodization type III
DUOTex®
CELLTex®
CELLBIOTex®
BONITex®