<![if !IE]> <![endif]>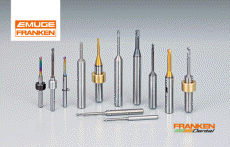 The FRANKEN Dental product line of the EMUGE-FRANKEN group of companies has been expanded with additional dimensions and types of end mills. This product extension provides dental laboratories with an even larger selection of dental tools for milling, drilling or grinding applications.

Franken has continuously expanded its dental product line and now offers more than 500 product variants of end mills, grinding burrs and twist drills for the production of dentures thanks to the further development of dental materials and machining technologies.

The product range has been designed and optimised for all current dental materials in terms of substrate, cutting edge geometry, finish treatment and coating. The range of applications for the tools includes the machining of cobalt-chrome, titanium, PMMA/PEEK, wax, zirconium oxide and glass ceramic. The different designs of the shank geometries with smooth cylindrical shank, brass stop ring, plastic stop ring or retaining ring enable a wide range of applications in all common machine systems of open or closed CAD/CAM process chains. Even a device for pressing on the stop rings as well as individual stop rings are available in the product range.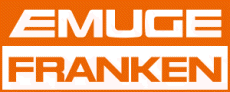 Frankenstr. 7 / 9
90607 Rückersdorf
Germany