<![if !IE]> <![endif]>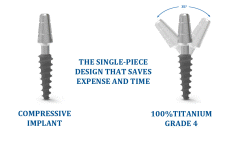 The implant surface of the Compressive Line is obtained through chemical etching,decontamination and Argon plasma cold treatment.Together they create a new surface with a high degree of cleanliness characterised by a homogeneous        micro-porosity which increases the osteoblasts adhesion and safer osseointegration. 

Compressive line implantes are indicated for the immediate loading technique, in situations with appropriate healthy bone. 

It is not necessary to enagage the second cortex, since the primary stability is obtained thanks to the compression of the bone exerted by the implant.

str. Zaltorvruh No 71 Office B
1164 Sofia
Bulgaria