<![if !IE]> <![endif]>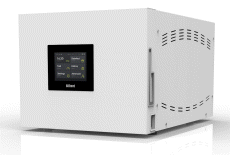 The efficient, water-cooled vacuum pump (vacuum level -0.96 bar) secures successful sterilization and optimal dryness of instruments in continuous operation.

Rapid sterilization
16 minutes in Quick-Program "B" for the steriliza- tion of wrapped instruments including pre-vacu- um and drying to accelerate the rapid use of instruments and reduce the inventory of high-value devices.

Color-touch-screen 5.6" display
Enables intuitive operation and real time informa- tion of sterilization cycle including temperature, pressure in the chamber.

For large practices
It is especially perfect for practices with larger sets of instruments and suitable for practices that wish to carry out several sterilization processes one after another.

Intelligent load detection
With intelligent load detection,required time, water and power can be calculated precisely by measuring the amount of sterilized load to achieve effective sterilization, energy saving and environ- mental protection.

Easy maintenance
External water connection, distilled water is fed from external water reservoirs automatically. After one cycle, no need of cleaning the water tank and discharge the waste water regularly.

Sternstr. 67
40479 Düsseldorf
Germany