<![if !IE]> <![endif]>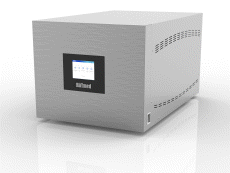 46L Autoclave can accommodate 16.7KG metal instruments, 330% of the capacity of 18L autoclave.

Larger, Faster
Equipped with advanced water cooling technology, 35 minutes in program 134 for the sterilization of wrapped instruments including pre-vacuum.

Perfect sterilization
Powered by German water-cooled O-ring vacuum pump capable of reaching vacuum level as low as -0.96bar to ensure perfect sterilization.

Automatic door
An innovative automatic door opening device with just one key touch.
Color-touch-screen 5.6" display
Enables intuitive operation and real time information of sterilization cycle including temperature, pressure in the chamber.
Documentation
Traceability via colour-touch display with intuitive operating interface.

Sternstr. 67
40479 Düsseldorf
Germany