<![if !IE]> <![endif]>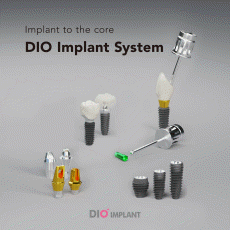 Introducing DIO Implant - the state-of-the-art implant system that offers excellent initial fixation, minimal bone absorption, and improved affinity with surrounding soft tissue. Our surface treatment technology and implant design make us stand out from the competition, making us a widely-used and trusted brand worldwide.

Our advanced surface treatment technology has been designed to prevent peri-implantitis and promote osseointegration. For the upper part of the implant, we have applied a fine roughness of less than 1μm to prevent inflammation and improve affinity with surrounding soft tissue. In the body and apex areas, we have applied the surface roughness most suitable for osseointegration, ensuring excellent initial fixation and minimal bone absorption.

Our surface treatment technology has been clinically proven through long-term clinical and joint studies worldwide, with bone formation speed increased up to 49% just three weeks after implantation compared to our RBM surface treatment.

The DIO Implant system comes in various designs, including the Internal Submerged System, Internal Non-Submerged System, External System, Mini Implant System.

At DIO, we take pride in our products and provide a certificate of authenticity for each case. We also offer after-care services to ensure our clients are satisfied with their DIO implants.

Overall, the DIO Implant system is an excellent choice for any dental practice looking to provide their patients with reliable, high-quality implants. With our advanced surface treatment technology and proven clinical results, DIO Implant is the right choice for any dental professional who values patient satisfaction and quality care.

Centumseo-ro 66
48058 Haeundae-gu, Busan
Korea, Republic of
+82 517457738

+82 517457778