<![if !IE]> <![endif]>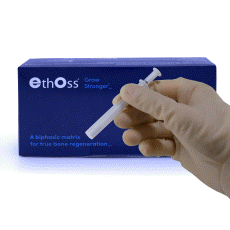 Born from a desire to move beyond traditional "GBR", donor grafts and artificial scaffolds, EthOss® bone grafting material was created to pioneer True Host Bone Regeneration in dentistry and oral surgery. The initial concept was simple: "the body wants to heal, let's work with it". This was key to the development of EthOss - a grafting material which works with the body, upregulating the host healing response to regenerate lost bone.

ETHOSS' INNOVATIVE APPROACH IS A STEP FORWARD IN SEVERAL WAYS:

SIMPLER: Its built-in calcium sulphate binder helps stabilise the graft and prevent soft tissue ingress, eliminating the need for an added collagen membrane.

SAFER: EthOss is 100% synthetic. There's no human or animal content, so no risk of cross-contamination.
STRONGER: EthOss is fully absorbed into the body, as it's replaced by new healthy host bone – up to 50% in as little as 12 weeks.

Ryefield Court Unit 8 Ryefield Way
KEIGHLEY BD20 0DL
United Kingdom